OLFC Insights
Bluefin Tuna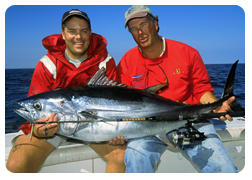 Gloucester is the historic epicenter for anglers fishing for Bluefin Tuna. The giant fleet fishing out of Gloucester numbers in the hundreds. Most giant tuna caught in Massachusetts waters end up on jets to Japan where their flesh is the most highly prized meat for sushi lovers worldwide. We pursue the smaller school bluefin tuna, fish in the range from 40 lbs to 200 lbs are our most frequent catches. In the last ten years we have seen an explosion in the inshore tuna fishery in our waters. Anglers from all over the world make the pilgrimage to the tuna mecca hoping to hook fish on light tackle and fly rods in what has become the most famous bluefin tuna fishery in the world. Gloucester has always been known for its giants but increasingly it has become recognized as ground zero in the school bluefin craze that has captured that attention of so many anglers.
Fishing Methods
Our favorite method for cathing these fish is with light tackle using spinning rods and for some serious entertainment; surface poppers. Watching a bluefin tuna destroy a popper is an image that will stick in your head for years to come. We were one of the first boats to start using poppers and casting gear for these great gamefish and have been developing our methods over the past 10 years. Casting metal jigs is also a very popular and successful means to catch bluefin. Vertical jigging has come on the scene in the last few years and has accounted for hundreds of these fish being caught. Lastly we have also caught a lot of tuna trolling with a variety of lures from full sized squid bars to single lures. Some years trolling is the most successful methods while other years poppers are the ticket to the show. Each year is a little bit different but you can always count on good numbers of fish and a variety of opportunities on a given trip.

Season
There is a small number of fish that show up in June every year but the main push of fish is not until late July or August. Prime time for bluefin is late August and the months of September and October. While these fish can often be caught as late as December the weather causes us to cancel most of our late season trips. We recommend booking your tuna trips well in advance as the prime dates disappear quickly.