OLFC Insights
Bottom Fishing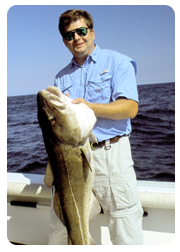 Gloucester's offshore banks provide some extraordinary bottom-fishing opportunities for anglers. Cod fishing has historical roots in Gloucester going back to the early settlers. Anglers travel from all over the world to fish for our cod. Due to recent conservation efforts we are once again enjoying outstanding cod fishing in our state's waters. We have great fishing for a variety of other species as well. Haddock have also had a resurgence under strict fishing regulations. Monkfish, wolfish and Pollock round out the list of desirable sport and table fare. We are fortunate to have so many of these species available within a short distance from our docks.
Fishing Methods
Bottom fishing requires reasonably heavy gear for traditional fishing. However, with the advent of these small diameter, high strength fishing lines we have been able to use much lighter gear in recent years enhancing our anglers enjoyment tremendously. We commonly fish a single heavy jig with a teaser rigged above. There are times when bait outfishes jigs but these are the exception not the rule.
Season
Good fishing for these species is available from April to December. Weather is always an issue at either end of our season so we do most of our bottom fishing during the summer months. Inquire about our combination trips featuring multiple species such as sharks and cod or tuna and cod. This can be a great way to enjoy the best of both worlds.