OLFC Insights
Bluefish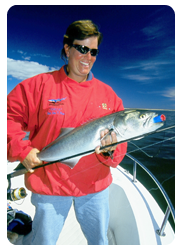 Bluefishing in New England can be some of the most exciting fishing anywhere. Bluefish as one of the top predators in the ocean renowned for their voracious appetites. Watching Bluefish attack poppers is one of the most exciting aspects of this fishery. Bluefish are also known for their fighting ability as they will not give up until you grab them by the tail and even then they don't often quit. Bluefish usually appear in large schools and are often found under birds, feeding near the surface. These great fish always improve any day on the water and are one of our clients favorite activities during our trips. Kids love bluefish because they are so willing to bite almost anything making them a perfect quarry to seek on a kids trip. If you want to get your kids in to fishing, take them out after bluefish and you will get them hooked for life.
Fishing Methods
Our preferred method for bluefish is throwing poppers whether with fly or spin gear. These fish will launch themselves out of the water to eat poppers again and again. We often use 12-15lb spinning and 10 wt. fly gear for these fish as they are so strong that on lighter tackle the fight can last forever. There are times in the middle of the day when the fish are deeper in the water column and we will have to jig or troll to find them but the majority of our trips feature surface casting.
Season
Bluefish usually arrive in early to mid-June and are in residence until late October. Peak fishing usually occurs during the spring migration in June and again in September and October during the annual fall blitz as the fish feed heavily before departing for southern waters.